The Story of Hurricane Michael and the "Sand Palace"
Part one of a three-part series
US 98 is one of the longest roads in the state of Florida. Its 670-mile reach runs northwest from Palm Beach to Pensacola, then rambles on past the Alabama border. At a friend's suggestion, this was the route I took from Orlando to the panhandle. Little did I know that the coastal stretch of this road would seize my heart in a way that I still can't quite comprehend.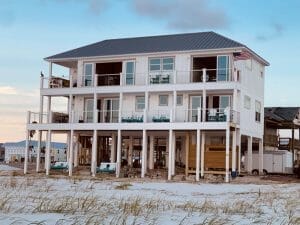 It was the wreckage of Hurricane Michael that prompted the trip. My photographer, Walter Lowe and I drove from Central Florida to shoot a half hour hurricane special for our television show Ready, Set, Renovate! Our subject was a vacation home called "The Sand Palace". This white, three-story, oceanfront fortress in the tiny town of Mexico Beach had been carefully built with top-of-the-line materials. Construction was completed in April of 2018, just six months before category five Michael would make landfall.
When the first images of Michael's aftermath were splashed across global news outlets, the cameras were irresistibly trained on "The Sand Palace", which stood amongst the rubble, seemingly untouched. The aerial views were, and still are, staggering. It is remarkable when devastation that rivals a nuclear attack is upstaged by, well, anything, but that house became a media sensation. CNN, ABC, Fox News, The New York Times, Business Insider, Popular Science, amongst many others, did feature stories on the property.
The juxtaposition of that house standing majestically along the Gulf of Mexico's sugar sand shoreline, against the back drop of the debris field that was now Mexico Beach, was a spellbinding image. Everyone wanted to know why that house was spared in the storm, including me.
The Road to the Panhandle and the Forgotten Coast
Walter and I drove through alternating downpours and swarms of spring time love bugs up I-75, then along Route 27, and eventually onto US 98. Places and things we'd never heard of popped up along the mainly two-lane road. A town called Sopchoppy, that boasts its ongoing reign as the "Worm Grunting Capital of the World" caught our attention. After a little research, we learned that worm grunting involves vibrating the soil to drive worms to the surface. We wondered aloud if those worked up worms would end up as bait for fish caught and served in nearby Apalachicola.
Apalachicola is part of what is known as "The Forgotten Coast". The locals will tell you it means that this is one of the few areas along Florida's gulf coast that hasn't been overdeveloped with strip malls and condos. Others claim it was because the area was intentionally left out of regional tourist maps back in the 1990s. It is a quaint, historic town brimming with fresh seafood restaurants and eclectic shops. All appeared to be in fine form as we drove through, with barely a hint of a recent natural disaster.
Six Months Later: Signs of Loss Abound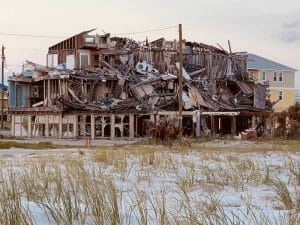 As we neared the coastal town of Port Saint Joe, we began to see the first real signs of Michael. Vast stands of pines were snapped like match sticks. Six months after the storm, scores of roof tops were still covered with blue tarps. It looked bad, but it was nothing compared to what we would witness over the next two days in Mexico Beach.
Our first glimpse of human toll occurred when we stepped into our hotel. There was a woman from Arkansas checking in ahead of us. She told us she was tending to the last details of her sister's estate. Before the storm, the family begged her sister to evacuate the Mexico Beach home she lived in for so many years, but she refused. After Michael, the concrete slab was all that remained of the home, and her sister was never found.
Stay tuned for part two of this series!